The Story of a Freeski Mountaineering Adventure in Mongolia

This article has originally been published in Backline Magazine in December 2013. The text below has been slightly adapted and features different images.
Uka looked worried. Uka was normally the relaxed "You don't worry my friend" kind of guy and our cook. He exchanged concerned looks with our Mongolian translator Tsogo. The kitchen tent of the base camp was caving in with strong gusts and on the brink of breaking down. The girls tent had already fallen victim to the snowstorm. Everyone was running around securing the remaining tents with extra ropes and rocks we dug out of the freshly fallen snow.
We were halfway through our two-week mission in the remote Tavan Bogd mountain range in Mongolia. It was winter in the middle of May and it felt like we were completely out of touch with the rest of the world. Everything was colder, windier and icier than we expected, but when the weather was clear it was also more impressive and overwhelming under the biggest sky you can imagine.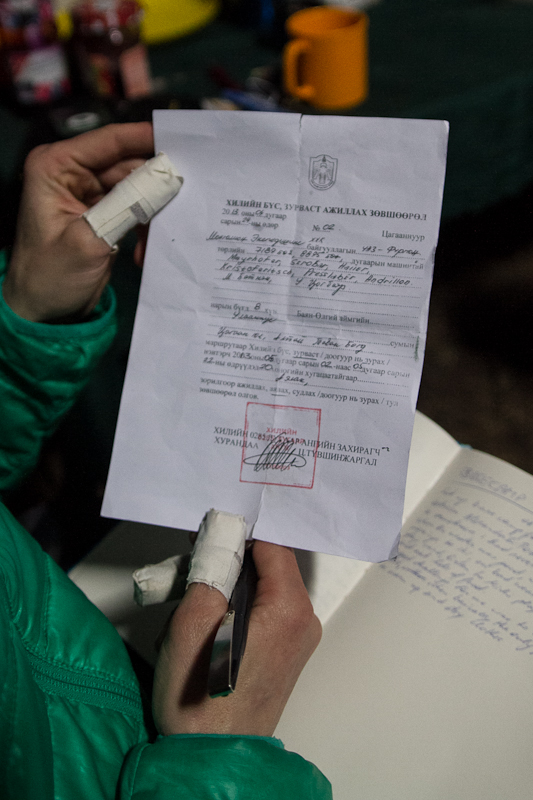 Olgii is a smallish city in the Bayan Olgii Aimag in Western Mongolia where we ended up spending a few days prior and after our time in the mountains. Olgii has a mentionable relaxed, friendly vibe. It is a place where cows battle it out with the few traffic lights and the sun settles in an incredible warm magenta. From there on we headed further west, leaving civilization.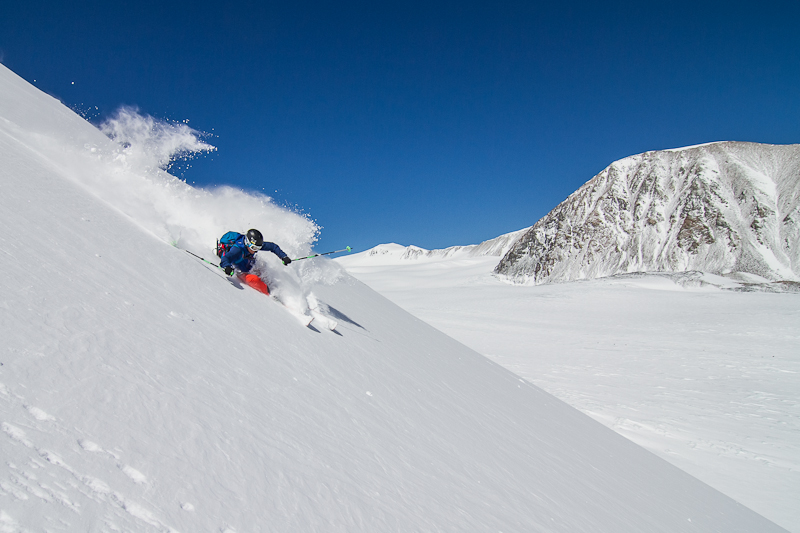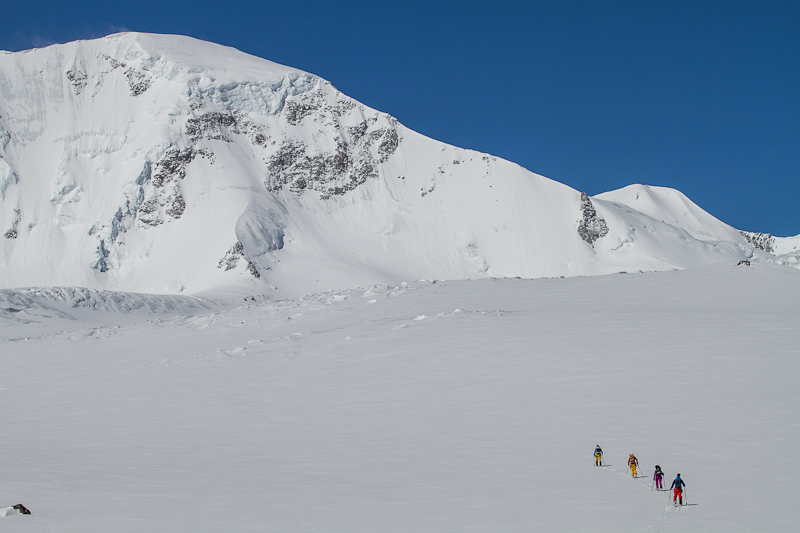 Then we got down to the serious business of freeski mountaineering. Not so much focusing on the actual summits, but the interesting lines that could be found on their faces. We started with obvious but intriguing colouirs on Burgit, the mountain across from our base camp, then ventured on to Naran, a beautiful mountain that sits between the Potanin and Alexander glacier. We climbed those colouirs partly alone, partly in small teams. Each of those climbs and descents added to the sensation of being very far away from civilization and possible help, but also intensified our concentration and the overall experience.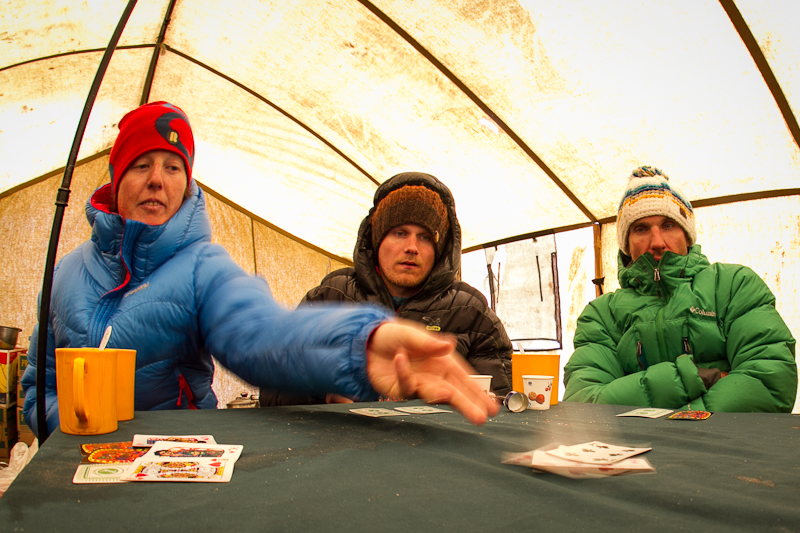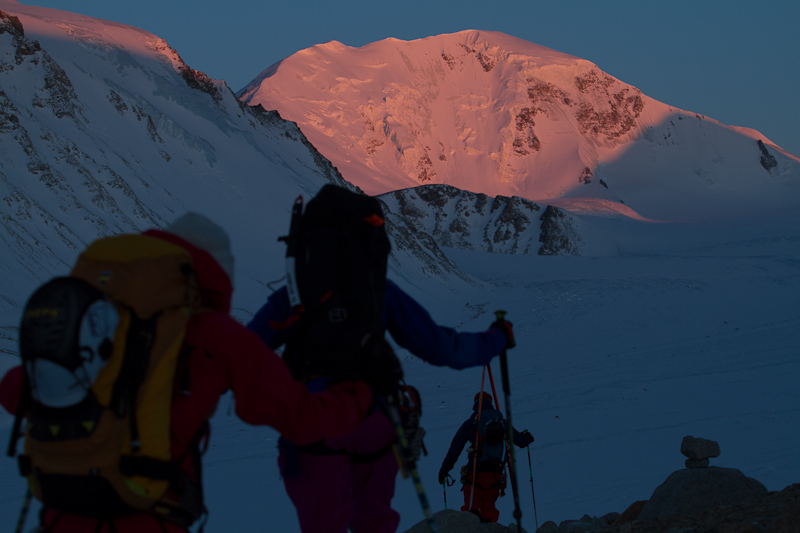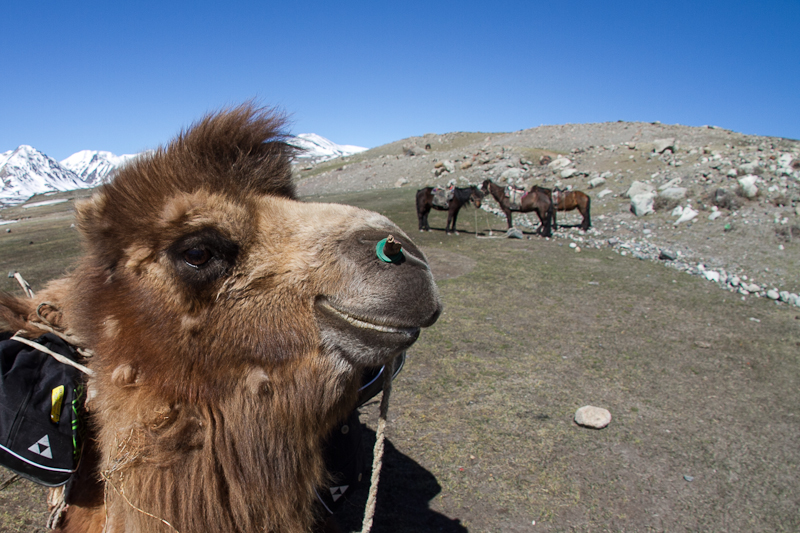 Text: Stephan Skrobar
Pics: Zlu Haller / www.chalkjunkie.at
Further reading:
A skiadventure to Mongolia… (Melissa Presslaber)
Freeskiing Mongolia (Liz Kristoferitsch)
Camels and Skiing in Mongolia (Powder Magazine)
camelsarenevercold.tumblr.com (Behind the scenes pics, film trailer etc.)